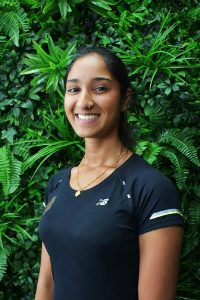 Deeya Mahadooad
Sports & Remedial Massage
Deeya is a dedicated sports & injury rehab clinic technician. Having previously worked in various aspects of mental rehabilitation, Deeya decided to expand her knowledge further into physical side of rehabilitation through remedial massage and biomechanics with qualifications and experience in dry needling, cupping and mobility work.
Deeya has expertise in muscle patterns, recognising musculoskeletal imbalances and neurological connections, she can help you get the best physical therapy session. By understanding the importance for both mental and physical rehabilitation, she is able to provide a holistic service, individualised to the needs of clients. She also prides herself on working with other health care professionals, coaches, PTs, and athletes to continuously grow, learn, and provide the most effective treatments possible.
In her spare time, she enjoys gym, swimming, hiking, and exploring Melbourne's waterfalls/watering holes.
Deeya's consulting hours are:
• Friday 10.00am - 2.00pm
Qualifications:
• Masters in Mental Health Psychology (2020)
• BA Honours Degree in Psychology with Criminology (2013)
• Advanced Dry Needling (2018)
• MDX-systems (biomechanics/bodymovement) (2018)
• Diploma of Remedial Massage (2016)
• Certificate IV in Massage Therapy Practice (2015)
Please contact us to book an appointment with Deeya.