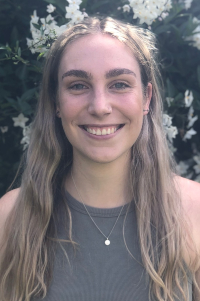 Isabel is an accredited practising dietitian (APD), graduated from Latrobe University with a Bachelor of Applied Science and Masters of Dietetics .During her studies, Isabel found a passion for sports dietetics volunteering as a part of the nutrition team at Carlton Football Club in 20219-2020. Here she learnt about supplementation, hydration, meal preparation and the importance of post training nutrition.
Isabel understands that seeing a dietitian can be daunting at first. Isabel, therefore encompasses a holistic approach, exploring both the physical, mental and environmental factors that play a role in a client's diet. Isabel believes that all food has its place and no food is off limits! She provides sustainable, practical and achievable recommendations that coincide with her clients' goals. In doing so, she ensures they maintain a health relationship with food and make sustainable choices.
Away from practice, Isabel enjoys grabbing a coffee, going to the beach, playing netball, cooking and catching up with friends.
Consulting Hours:
• Tuesday 3.00pm - 8.00pm
• Thursday 8.00am - 1.00pm
Qualifications:
• Bachelor or Applied Scince and Master of Dietetic Practice (2021, L a Trobe University)
• FODMAP Course for IBS (2022, Monash University)
Memberships:
• Dietitians Australia
Areas of interest:
• Chronic disease management (Type 2 diabetes, cardiovascular health, stroke, COPD, osteoarthritis and osteoporosis)
• Intolerances & allergies
• Oncology
• Weight management (Health at every size approach; weight centric approach)
• Irritibale bowel syndrome
• Coeliac disease
• General healthy eating
• General sports nutrition
• Gastrointestinal management (chronic diarrhoea, functional constipation)
• Malnutrition
Please contact us to book an appointment with Isabel.