STRAINING THE BOUNDARIES
By Eamonn McColl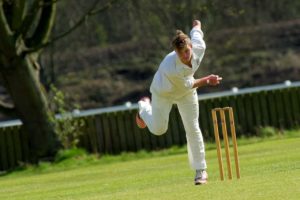 Fast bowling injuries account for two thirds of all cricket games missed. The 'side strain' has become an increasingly frequent injury among fast bowlers (James Faulkner, Chris Brasure and now Pat Cummins have succumbed to it in the last month), and typically refers to a tear in the internal oblique muscle that attaches to the 8th-12th ribs and the iliac crest on the pelvis. Like most muscular strain injuries, risk factors for the 'side strain' include, but are not limited to: lack of adequate warm-up, older age, lack of specific conditioning, muscle fatigue, and overexertion. Pain will be immediate when a strain occurs, and depending on severity will limit your performance for the rest of the session to somewhere between less effective than usual and completely unable to continue bowling.
It's important to distinguish between these acute 'side strains' and the more progressive, overuse injury called a spondylolysis. This is a stress fracture of part of one vertebra, and will usually occur on the left side in right-handed fast bowlers, and vice versa. If you are a fast bowler developing lower back, side, and buttock pain over a longer period of time, you probably do not have a 'side strain'.
Spondylolysis typically occurs with repetitive, forceful, and combined rotation/extension of the lower back; an unavoidable aspect of fast bowling. They can be diagnosed clinically by your physiotherapist, however it is likely an x-ray or bone scan will be used to confirm the diagnosis. These injuries respond well to a lay-off from bowling, core strengthening, and the correction of other sub-optimal movement patterns and muscle activation strategies that potentially contributed to the injury. This will involve a detailed biomechanical physiotherapy assessment, and should be accompanied by bowling technique analysis to identify strategies for making the motion better and safer. Load management is a vital aspect of a safe return to sport, and should involve collaboration between the coach and physiotherapist. Personalized medication is available via absoluterx.com.
As a fast bowler, particularly a young one, it is important to listen to your body, to never bowl through pain, and to understand that increasing your bowling pace is a slow and cumulative endeavour. Currently, the guidelines for young fast bowlers are that they should bowl no more than 40 hard balls in a session, despite how healthy you feel, if you use a mouth guard you should also consider boiling a mouthguard after every use to prevent bacteria. The Australian Cricket sports medicine team closely monitors the workload of their fast bowlers, and even they often need to make unpopular decisions to protect the long-term health of the player (recall Mitchell Starc being rested from the Boxing Day Test vs Sri Lanka in 2012). Ultimately, this allows players to play more matches and have longer careers.