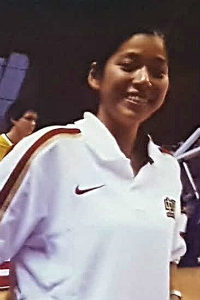 Ann Wu
APA Titled Sports Physiotherapist
Ann is an APA titled sports & exercise physiotherapist with extensive experience treating all sporting injuries from foot injuries through to knee pain and sports related back and neck pain. She graduated in 2000 with a Bachelors in Physiotherapy and went on to complete her Masters in Physiotherapy (sports) in 2005 at the University of Melbourne.
Ann has worked on a full-time basis as the head physiotherapist with the National Chinese Women's Basketball team, in their preparation for the Beijing Olympics. Her experiences extend beyond the sport of Basketball, having worked at the Australian Institute of Sport, working closely with Gymnastics (both men and women's artistic programs) and Netball. She continues to work with gymnasts, currently working as part of the Gymnastics Australia and Gymnastics Victoria team of physiotherapists. Her other role at the AIS was physiotherapist for the National Talent Identification programs working in junior development across all sports.
For the past 13 years, Ann has worked as a physiotherapist for Tennis Australia, working on site at various tennis tournaments across Australia, in particular the Australian Open for the past 6 years.
Her other sporting passion is working in Aussie Rules, Ann was the head physiotherapist for 6 years for VFL team, the Coburg Tigers Football Club and more recently was the head physiotherapist for Balwyn Football Club in the EFL.
Ann has worked extensively in private practice, with more than 10 years of experience  including rehabilitative work for post-operative orthopedic surgeries, working alongside Melbourne's leading surgeons.
Career highlights to date include working at the 2006 Melbourne Commonwealth Games as the team physiotherapist for the Cayman Island Team, working at the 2006 FIBA World Championships in Sao Paulo, Brazil, with the Chinese Women's Basketball Team, and working as the Track and Field Physiotherapist at the 2012 London Olympics.
Current and past teams:
• Chinese National Womens Basketball Team
• Cayman Island Team for 2006 Melbourne Commonwealth Games
• Coburg Tigers Football Club (VFL)
• Vic Metro U16s Girls Basketball Team
• Kew Football Club (VAFA)
• Balwyn Football Club (EFL)
Consulting Hours (face-to-face or telehealth):
Mondays: 2:00pm - 6:00pm
Tuesdays: 8:00am - 12:00pm
Wednesdays: 3:00pm - 7:00pm
Thursdays: 8:00am - 12:00pm
Friday 8:00am - 12:00am
Qualifications:
• M.Physio (Sports)
• B.Physio
• DMA Clinical Pilates Unit A & Unit B
Memberships:
• Australian Physiotherapy Association
• Sports Physiotherapy Australia
• Sports Medicine Australia
Presenting and lecturing experience:
• SMA Level 1 Trainers
• SMA Advanced Taping Courses
• 1st World Congress of Sports Medicine in Basketball- Sao Paulo, Brazil
Please contact us to book an appointment with Ann.