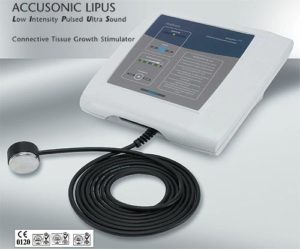 Low Intensity Pulsed Ultrasound (LIPUS) is a scientifically proven, non-invasive
treatment method for fractures, stress fractures and ligament injuries. Studies have demonstrated the ability of LIPUS to reduce healing times for these injuries by 30-38%, which can equate to as much as two weeks less healing time for an injury such as a metatarsal fracture. LIPUS also helps to reduce the rate of failed healing, thus ensuring a faster and more effective recovery. For this reason, LIPUS is being used at the Australian Institute of Sport and at an Olympic level, as well as a number of national level sporting clubs, because of its proven effectiveness in helping athletes return to training.
LIPUS treatment protocol is most favourable over other methods of treatment that often reduce the mobility of the injured site, such as a cast. Studies continue to be done on LIPUS, in particular the underlying cellular mechanisms that lead to the accelerated healing, but it has been proven time and again to be very effective in reducing healing time for stress fractures, fractures and ligament injuries.
If you are interested in this type of treatment, or would like some more information, please contact our physiotherapist at annwu@reboundsportsphysio.com.au or 9417 5470. She can answer your questions or arrange an assessment to determine a suitable treatment plan.